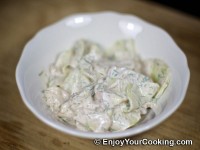 This is my recipe for so called Polish Cucumber salad: simple salad with cucumbers, fresh dill and marinated onions.
Marinating onions makes them less bitter and removes most of that onion breath smell therefore this salad is great for parties, cookouts and such.
I am using balsamic vinegar and sour cream as dressing here. If you like, you can replace vinegar with lemon juice, but I somehow like vinegar better.
Ingredients:
1 big cucumber or few smaller ones
Bunch of fresh dill
1 small onion
3 tablespoons of balsamic vinegar (white or dark)
3-4 tablespoons of sour cream
Freshly ground black pepper to taste
Salt to taste
How to prepare, step-by-step:
Enjoy!