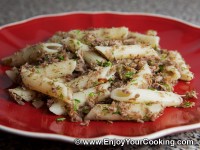 Lots of recipes require using clear soup (meat broth, stock), however not all of them also require boiled meat which is often used to prepare meat broth. So the question is, are there any good recipes which actually require boiled meat and no broth?
This is one of them: russian pasta with ground boiled beef and fried onions (btw, it is called "makarony po-flotski" in Russia; I have no idea why, but we always called this dish so).
Any "al dente" kind of pasta will work here: I've used penne, just read instructions on the pack and cook them accordingly. You may also vary proportion of meat to pasta to taste.
Ingredients:
Macaroni (penne, gomito, conchiglie or any other type of macaroni to your taste) for about 4 servings
Boiled beef (made of about 1 lb of fresh beef)
1 big onion
Fresh dill or fresh parsley, or both, to taste
Olive oil
Ground black pepper to taste
Salt to taste
How to prepare, step-by-step:
5 Responses to "Macaroni with Ground Boiled Beef"