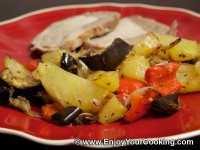 Summer is here and summer is a perfect time to enjoy vegetables it brings along.
Bell peppers, eggplants, potatoes roast together with olive oil based dressing with garlic and herbs can be a perfect dish on their own as well as a side dish to meats or poultry.
Once veggies are all sliced and mixed with dressing (can be prepared in advance), it takes about an hour to roast them in the oven.
Roasting doesn't require much of attention, just stirring from time to time. So I consider this dish easy to prepare.
Ingredients:
1.5lb – 2lb of potato
1-2 bell pepper(s)
3 shallots
1 medium sized eggplant
4 garlic cloves
3 tbsp of olive oil
3 tbsp of white vinegar
1 tsp of dry basil leaves
1 tsp of dry oregano flakes
Salt and ground black pepper to taste
How to prepare, step-by-step:
Enjoy!
3 Responses to "Potato Roast with Vegetables"