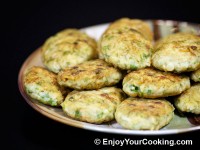 Tender fish cutlets can be prepared of many kinds of fish to your choice (I used tilapia fillets for example).
If fish you are planning on using has bones, they will need to removed before mincing, skin can be kept intact (presuming scales and fins removed as well).
Fish cutlets can be served warm or cooled down, boiled whole potatoes or mash potatoes are good side dish for these, a dash of mayo is a nice addition.
Ingredients:
1.5lb of fish fillets
1/3 cups of rice
1 egg
2 slices of itallian bread
About cup of water
Bunch of fresh green onions (3-4 stems)
Bunch of fresh dill
3-4 tablespoons of all purpose flour or bread crumbs
Ground black pepper to taste
Salt to taste
Oil
How to prepare, step-by-step:
Enjoy!