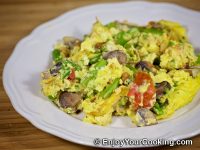 Scrambled eggs is one of these things one can easily throw together and be creative about it: the fridge content is the only limit, really.
And asparagus is my new go to for scrambled eggs lately. It pairs well with mushrooms and vegetables, and eggs themselves of course.
So here you go: a recipe for scrambled eggs with asparagus and mushrooms. Feel free to follow the steps, or tweak it one way or another.
Ingredients:
5 eggs
1/2lb of asparagus
2 campari tomatoes
4-5 baby bella mushrooms
1 tablespoon of sour cream
A bit of fresh parsley or dill or a mix of two
Salt to taste
Butter for frying (about 1 tablespoon)
How to prepare, step-by-step:
Enjoy!