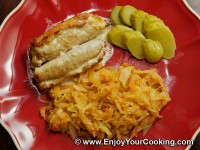 Kruchenyky or zavyvantsi – meat rolls prepared with pork (less often with beef) and stuffed with various mixes. This is very popular dish of traditional ukrainian cuisine.
Stuffings for kruchenyky, as well as sauces, vary from region to region and, actually, from cook to cook.
I like kruchenyky prepared from pork loin and stuffed with mushrooms or mushroom mix with some other ingredients, fried and then baked under cream sauce. Just like in this recipe.
It may seem like lot of hassle to cook these stuffed pork rolls, but it is really not as hard as it looks; and is really tasty 🙂
Ingredients:
1.5 lb of boneless pork loin
1 lb of field mushrooms
2 big onions
2 eggs
1 – 1.5 cup shredded mozzarella cheese
1 cup of heavy cream
Salt to taste
Ground black pepper to taste
Sunflower or olive oil
How to prepare, step-by-step:
Enjoy!
One Response to "Stuffed Pork Rolls with Mushrooms (Kruchenyky)"