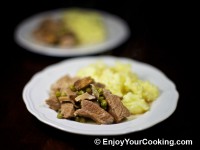 Chanterelles are mushrooms which I simply can't pass in the shop, even though they are seasonal or maybe because of that.
It is my shame, but I don't know any way to prepare them other than this stew with veal and peas, but it sure tastes great!
You can substitute beef for veal, just increase cooking time to ensure meat is soft enough. You can also substitute white dry wine for water, if you feel like this.
Ingredients:
3lb boneless veal (chuck roast, shoulder part or such)
1lb of chanterelle mushrooms
10oz of green peas
1 big onion
Cup of water dry (substitute for a cup of white wine)
2-3 tablespoons of oil
Ground black pepper to taste
Salt to taste
How to prepare, step-by-step:
Enjoy!