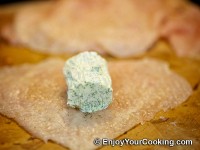 Herb or herbed butter is not only a good way to dress plain butter for further use, but also a good way to preserve fresh dill if you have too much on your hands and no other use for it.
For some reasons stores here choose to sell dill in such big bunches that it is sometimes too hard to put it all to use before dill spoils. By the way, you can mix other fresh herbs to prepare herb butter.
Herb butter is essential ingredient of Chicken Kiev recipe (which goes out next week), but it can be also used on steaks, fish, potato or other vegetables.
Ingredients:
8oz of butter of your choice at room temperature
1 garlic clove
Bunch of fresh dill
How to prepare, step-by-step:
Enjoy!