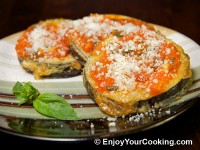 Eggplants fried in flour and egg coating are good on their own as a no-meat main course, appetizer or snack. But they can also be served as a side dish.
Tomato sauce with basil and garlic is a good addition to fried eggplants; it adds a bit of spiciness to plain taste of eggplants.
And parmesan goes great with that combination too.
Ingredients:
2 medium size eggplants
2 eggs
2-3 table spoons of all purpose flour
Oil
Salt
Ground parmesan

Sauce:
4 tomatoes
2 garlic cloves
Fresh basil
Olive oil
Salt to taste
How to prepare, step-by-step:
Enjoy!
One Response to "Parmesan Eggplants with Tomato Basil Sauce"