Tag:
boiled rice

(Page 2 of 2)

September 4th, 2010 in Beef, Main Dishes by Julia Volhina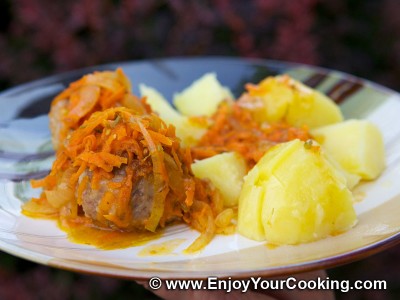 Russian meatballs (or "tefteli" how they are called in Russia) are prepared from ground beef and rice mix and cooked under some kind of sauce. They usually have big size (1 or 2 meatballs is enough for a serving).
This is a recipe for "tefteli" my mom uses: big meatballs, dipped into flour, then fried over in some oil and cooked with vegetable sauce (carrots, tomatoes, onions and dill) until ready.
I've modified recipe a bit to use freshly pureed tomatoes instead of tomato paste. However, if you don't have fresh tomatoes under your hands, you can use canned tomatoes or tomato paste diluted with water.
Boiled potatoes or mashed potatoes are usually the first choice of side dish for tefteli for me, boiled buckwheat or pasta work good too.
January 9th, 2010 in Salads by Julia Volhina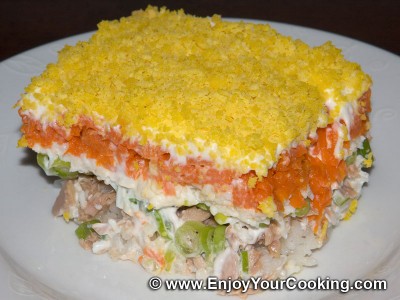 Mimosa, as a fish layered salad, is very popular in all countries of ex-USSR. As well as Herring Under Fur Coat and Salad Olivier, Salad Mimosa finds its place on the table for big holiday celebrations, such as New Year, Christmas, birthdays and others.
It is easy and fun to cook, and due to the layered structure of the salad it should be prepared several hours in advance before serving to allow layers to soak. So the good idea would be to assemble the salad a night before you are going to put it on the table.
By the way this salad name – Mimosa – comes from the bright yellow color and a texture of its last layer which looks very similar to the yellow blossoms of the plant called "mimosa" in Russia.