Mimosa (Layered Fish Salad)
January 9th, 2010 in Salads by Julia Volhina

Total cooking time:

1h 30min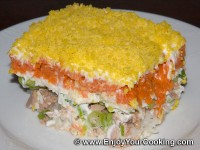 Mimosa, as a fish layered salad, is very popular in all countries of ex-USSR. As well as Herring Under Fur Coat and Salad Olivier, Salad Mimosa finds its place on the table for big holiday celebrations, such as New Year, Christmas, birthdays and others.
It is easy and fun to cook, and due to the layered structure of the salad it should be prepared several hours in advance before serving to allow layers to soak. So the good idea would be to assemble the salad a night before you are going to put it on the table.
By the way this salad name – Mimosa – comes from the bright yellow color and a texture of its last layer which looks very similar to the yellow blossoms of the plant called "mimosa" in Russia.
Ingredients:
9-12 oz of canned fish (the original recipe features sardines cooked in oil, which I couldn't find here, so I used tuna chunks instead)
5 eggs
Up to ½ cup of rice
3-4 medium carrots
Bunch of green onion
Mayonnaise, about 2 cups
Ground black pepper
Salt to taste
How to prepare, step-by-step:
Enjoy!