Tag:
pilaf

(Page 1 of 1)

January 22nd, 2011 in Chicken, Main Dishes by Julia Volhina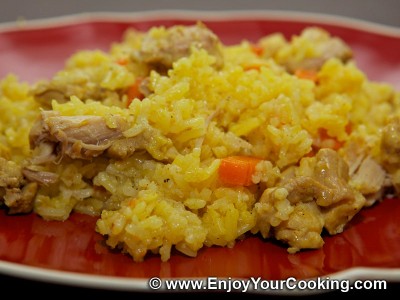 An easy tweak to classic pilaf recipe – chicken instead of lamb – will make this dish to shine all different colors. Chicken require less time to cook, it is more lean so, let's say it is more healthy and also faster to prepare 🙂
Using whole chicken is an option, but in this case you probably need to bone it first (unless you like to chew on bones).
Take boneless thighs, if you don't like to spend time removing bones. Chicken breasts can be used as well, but may end up being too dry – mix them up with some other parts such us thighs or so.
Another trick to this recipe is using cast-iron pan, ideally round one. It makes rice to cook more evenly which is more important part – get soft not overcooked rice.
September 19th, 2009 in Main Dishes, Pork by Julia Volhina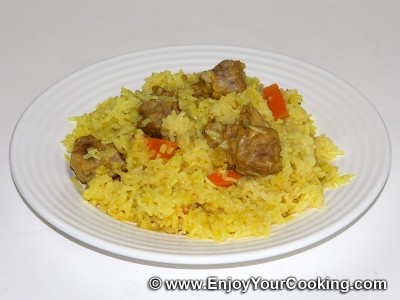 Typical Pilaf (plov, pilav) is prepared from rice and meat, and seasoned with spices. It is a dish, various recipes of which can be found in Middle Eastern, Central, South Asian and East African cultures, from where it was borrowed to various cuisines: so now dishes similar to pilaf can be found in every country recipes list.
Having roots on the East, original pilaf usually being made from lamb or mutton. However, I believe, it can be made pretty much of any kind of meat: beef, pork, chicken, duck, whatever you prefer.
I am not the big fan of lamb, so I usually prepare pilaf with a pork meat (which is a step away from the original recipe, but I like it). Feel free to replace pork with any other kind of meat you like and create your own pilaf recipe (you may also need to adjust the cooking time accordingly as different kinds of meats requite different time of preparation). Treat yourself to a delicious meal with a hint of orient spices!