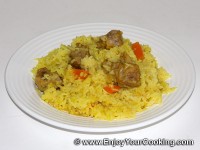 Typical Pilaf (plov, pilav) is prepared from rice and meat, and seasoned with spices. It is a dish, various recipes of which can be found in Middle Eastern, Central, South Asian and East African cultures, from where it was borrowed to various cuisines: so now dishes similar to pilaf can be found in every country recipes list.
Having roots on the East, original pilaf usually being made from lamb or mutton. However, I believe, it can be made pretty much of any kind of meat: beef, pork, chicken, duck, whatever you prefer.
I am not the big fan of lamb, so I usually prepare pilaf with a pork meat (which is a step away from the original recipe, but I like it). Feel free to replace pork with any other kind of meat you like and create your own pilaf recipe (you may also need to adjust the cooking time accordingly as different kinds of meats requite different time of preparation). Treat yourself to a delicious meal with a hint of orient spices!
Ingredients:
1.5 lb of pork (boneless shoulder part)
28 oz pack of basmanti rice
3 big carrots
2-3 onions
3 middle size garlic bulbs
1 tbs of ground cumin
½ tbs of ground turmeric
1 tbs of ground black pepper
1 tbs of paprika
Sunflower or olive oil (about ½ cup)
Salt to taste
How to make, step-by-step:
Bon Appetit!
7 Responses to "Pork Pilaf"