---
There is more than one recipe for pancakes on this website, if you are looking for some other recipe, try here:
all pancake recipes
.
---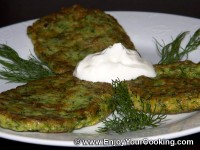 I prepared pancakes from zucchini, but they are also good prepared of any other kind of summer squash or even mix of them.
Soft and tender vegetable pancakes, they are easy and very fast to do. Perfect dish for breakfast or lunch, or for any other "hunger feeding" quick food break.
Odds are your kids will love them (even though they consist of pure vegetables)!
Ingredients:
1lb of zucchini
1 egg
1 garlic clove
Fresh dill to taste
1/2 cup of all purpose flour
1/4 tbs of backing soda
Sunflower or olive oil
Salt to taste
How to make, step-by-step:
Bon Appetit!
9 Responses to "Zucchini Pancakes (Summer Squash Pancakes)"