Greek Salad (Russian Variant)
September 5th, 2009 in Salads by Julia Volhina

Total cooking time:

45min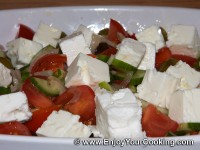 This is the recipe of Greek Salad how I used to eat it. This is prepared of mix of fresh vegetables with a light hint of Greece in mix of oregano with extra virgin olive oil and lemon juice, enriched by taste and texture of feta cheese.
Please note, the recipe I use can be very far related to the original greek recipe. I never been to Greece and mostly enjoy Greek cuisine from what I can find in local shops and restaurants.
This particular recipe describes the way how Greek Salad is prepared in Russia, so maybe it should be called Russian Greek Salad instead 🙂 Enjoy!
Ingredients:
Salad:
1lb of campari tomatoes (or any other sweet tomatoes)
1lb of baby cucumbers
0.5lb of greek feta cheese
1 small bell pepper of 1/2 of large one
15 pitted black olives
15 pitted green olives
1 small onion or even 1/2 (to taste)

Salad Dressing:
1 cup of extra virgin olive oil
2 tbsp of fresh squeezed lemon juice
1 tbs of dried oregano
1/2 tbs of salt
Ground black pepper to taste
How to make, step-by-step:
Bon Appetit!
5 Responses to "Greek Salad (Russian Variant)"