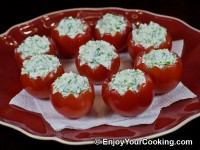 These campari tomatoes stuffed with fresh quark cheese, chopped greens and garlic can be nice addition to any celebration table or a cookout: they look festive, taste good and can be easily eaten with fingers.
If you can't find quark cheese (sometimes called farmers cheese, or fresh white cheese, or tvorog in russian) it may work with feta cheese, but I like it more with quark.
Seeds and pulp from tomatoes as well as top parts – once removed – are not needed for this recipe. You can discard them, or use in some other dish.
Many kind of stews and soups would only benefit from fresh tomatoes. I used seeds and juice from this batch to marinate a nice ribeye steak.
Ingredients:
9-10 of campari tomatoes
1/2lb of fresh quark cheese (farmers cheese)
2 branches of green onion
Small bunch of fresh dill
Small bunch of fresh parsley
1 garlic clove
1-2 tablespoons of mayo
Salt to taste
How to prepare, step-by-step:
Enjoy!