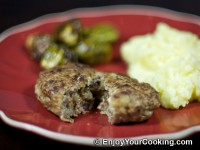 This is a tasty tweak to original minced beef cutlets recipe. The mince is prepared exactly the same way and mushrooms and onions stuffing gives ground meat juiciness and extraordinary taste.
A bit of agility is required to put stuffing inside of minced meat cutlets, but once you get it – it seems easy: meat is sticky, so if you get some holes, they can be easily patched by adding a layer of mince on top of the hole.
To prevent meat from sticking to hands – rinse hands with cold water from time to time while assembling minced cutlets.
Ingredients:
1.5lb of ground beef
8 oz of field mushrooms
2 big onions
1 egg
About 1/4 of white bread loaf, at least 2-3 days old
1/2 cup of milk
1/3 cup of all purpose flour
Vegetable oil
Ground black pepper to taste
Salt to taste
How to prepare, step-by-step:
Enjoy!