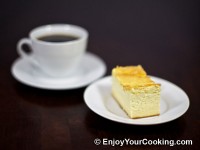 This cake is similar to the cheese cakes so popular in west part of the globe. However this one is made from quark cheese (fresh farmers cheese), not from the cream cheese.
It is very popular dessert treat in West Ukraine. It is often being made with raisins, however I don't like raisins, so I am doing it without any filling. Just add them if you like.
During the baking this cake will rise in the oven, and then it will fall down a bit while colling down. That i s ok, just important not to open oven while baking or cooling.
To make up for a bit uneven shape, you can cut uneven sides off before serving it.
Ingredients:
1.5lb of fresh farmers cheese (quark)
4 eggs
3.5oz of butter
3/4 cup of sugar
2 tablespoons of semolina flour + a bit for dusting the baking pan
Juice of half of small lemon
1/2 teaspoon of vanilla sugar
How to prepare, step-by-step:
Enjoy!
18 Responses to "West Ukrainian Cheese Cake"