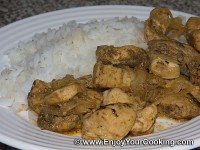 Gyros is Greek meat dish (right, it can be not only chicken gyros, but also beef, pork or lamb).
To make it: marinate sliced meat, place it on a tall vertical spit, which turns in front of a source of heat and cut meat out when is ready…
Well I don't have such vertical spit at home, so I prepare gyros in a different way.
And I like the gyros made of chicken more, so it is why that post about "Cotopulo Gyros" after all. And yes, it is spicy!
Ingredients:
2 – 2.5 lb of boneless, skinless chicken breasts
1-2 onions
Olive oil (approx. 1 cup)
Salt by taste

Spices:
1 tbsp of ground black pepper
2 tbsp of ground oregano
0.5 tbsp of ground coriander seed
1 tbsp of ground cumin
1 tbsp ground marjoram
0.5 tbsp of chili powder
How to make, step-by-step: