---
There is more than one recipe for lenten foods on this website, if you are looking for some other recipe, try here:
homemade lenten food recipes
.
---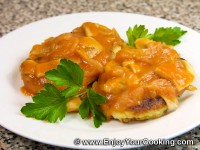 Potato, mushrooms and onions are almost all you need to make potato cakes in tomato-mushroom sauce.
Original vegetables only (no-meat) main dish recipe which doesn't require a side dish.
Ingredients:

Potato Cakes:
8-10 medium size potatoes
1 egg
All purpose flour
Oil, salt, black pepper

Tomato-Mushroom Sauce: 1-2 medium size onions
14 oz of field mushrooms
3 tbs of tomato paste
1 tbs of butter
All purpose flour
Oil, Salt
How to make, step-by-step:
3 Responses to "Potato Cakes with Tomato-Mushroom Sauce"