---
There is more than one recipe for pancakes on this website, if you are looking for some other recipe, try here:
all pancake recipes
.
---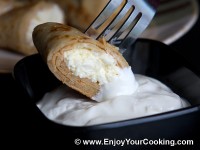 If you've got some crepes left or thinking about how to make them more tasteful and nutritious then stuff them with fresh cheese. You can prepare stuffed crepes and store them for future in the freezer. After, all you have to do to get a fresh and tasty crepe with cheese is to get it out of freezer and warm it up.
The only hassle with this recipe can be to find (or prepare) good quark-kind fresh white cheese. Try Russian, Ukrainian or Polish shop if you can't locate it local supermarket.
Crepes with Fresh Cheese are good for breakfast or snack, also they make perfect food for kids.
Ingredients:
20 fresh prepared crepes
1lb of fresh cheese (quark, tvorog)
1 egg
2tbsp of sugar
1tsp of vanilla sugar (don't put it if you don't like vanilla taste)
½ tsp of salt
Butter
How to make, step-by-step:
Bon Appetit!
2 Responses to "Crepes with Fresh Cheese"