This post is dedicated to support Barbara Harris's Livestrong with a Taste of Yellow food blog initiative to raise awareness for cancer issues world wide.

---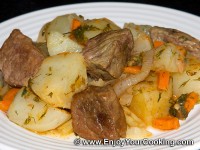 One of the most delicious ways to prepare beef is to stew it with vegetables. Stewed meat shares its juices with vegetables which makes the dish not only nutritious but also very tasty. Stews are a bit time consuming to prepare, but it is totally worth it. Serve stews hot without side dish.
In this post I've prepared beef stew with potato, bean, carrots and tomatoes. Read step-by-step instructions how to prepare Beef Stew with Vegetables with pictures.
Ingredients:
2lb-2.5lb of beef (london broil top round, for example)
2lb-2.5lb of potatoes (7-8)
1lb-1.5lb of wax beans
3 carrots
1-2 tomatoes
1 big onion
1 bunch of fresh dill
Sunflower or olive oil
Ground paprika, salt, black pepper
How to make, step-by-step:
Bon Appetit!
6 Responses to "Beef Stew with Vegetables"