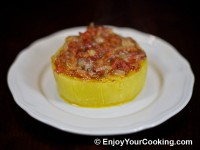 My mom usually cooked big zucchini like this: stiffing it with ground beef and rice mince.
However I wasn't able to find an "adult" zucchini in any shop here in US to cook it. It seems that they don't survive long enough to grow big here (maybe green piece should look into that, I don't know).
Anyway, I believe spaghetti squash is a good substitute for this recipe: it serves the purpose by being squash and providing a cavity to cook stuffing, and it also brings nice unique texture to the dish with its "spaghettiness".
The taste here is similar to cabbage rolls (as if they were made of squash 🙂 ), however the amount of work you need to put into this one is considerably smaller.
Ingredients:
Spaghetti squash about 3lb big
1 lb of ground beef
1/3 cup of rice
2 onions
4 roma tomatoes
Fresh dill
Ground black pepper
Salt to taste
Oil
How to prepare, step-by-step:
Enjoy!