Apple, Sorrel and Lettuce Salad
December 6th, 2014 in Salads by Julia Volhina

Total cooking time:

15min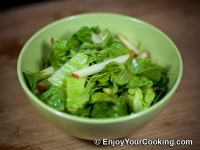 It seems to me that sorrel isn't something very popular in cooking in this part of the world.
But just in case if you were looking for some recipe using it, here is one: fresh raw salad with sorrel, apple and romaine lettuce dressed with lemon juice and honey.
If dressing seems too sour for you, replace some juice with water and increase amount of honey, that should do the trick.
Ingredients:
Bunch of fresh sorrel
1 apple
3-4 romaine lettuce leaves
Lemon juice of one lemon (you will not need all of it)
3 teaspoons of honey
How to prepare, step-by-step:
Enjoy!
2 Responses to "Apple, Sorrel and Lettuce Salad"