Tag:
sorrel

(Page 1 of 1)

December 6th, 2014 in Salads by Julia Volhina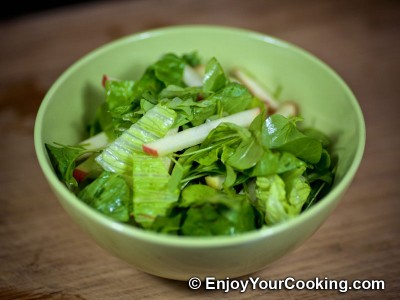 It seems to me that sorrel isn't something very popular in cooking in this part of the world.
But just in case if you were looking for some recipe using it, here is one: fresh raw salad with sorrel, apple and romaine lettuce dressed with lemon juice and honey.
If dressing seems too sour for you, replace some juice with water and increase amount of honey, that should do the trick.
June 18th, 2011 in Hot Soups, Soups by Julia Volhina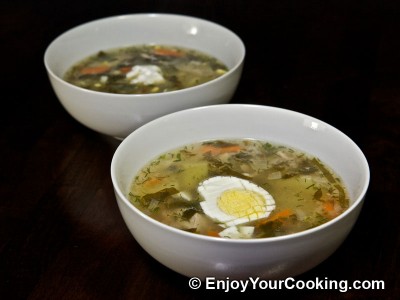 Sorrel and pork soup, or as it is called also green borscht (obviously because of the color), is one of these dishes you can rarely eat in US, unless you are ukrainian, poland, russian family or visiting one of those :).
I was a bit unlucky in buying sorrel this time. Sorrel is very seasonal (meaning available only on spring), and for some reason WholeFoods (the only place where I was able to find it) carries it in herbs section – read this as 2-3 branches per a pack.
I ended up getting last 3 packs they had in their stock, but even that was less then needed for this soup (I am actually still wondering, who buys sorrel in WholeFoods in such packs and for what?).
Anyway, if you are more lucky than me and either know where to buy enough of sorrel or growing it by yourself, you can safely use more, and by more I mean much more: 3-4 cups is good. If you want to make it's sour taste a bit less intense – fry it before adding to the cooking pot or/and use more water when cooking broth.