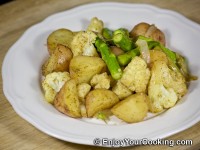 Potatoes, cauliflower, asparagus and onions infused with fajita and some other spices and roasted in the oven is perfect dish on its own if you want more veggies in your diet, or great side dish for meat or chicken entree.
Cooking time for this dish in will vary depending on size of potato and cauliflower pieces. Potato in general will take more time to cook than other vegetables, slice it in smaller pieces and check its readiness with a knife before turning the oven off.
I used virgin olive oil spray here, spraying is a way more convenient than just pouring, it also helps to cut amount of oil to necessary minimum. However pouring oil will work as well.
Ingredients:
2lbs of small red potatoes
1lbs of cauliflower florets
1lbs of asparagus
1-2 shallots or other small onions
2 tablespoons of Fajita mix spices or more to taste
1 teaspoon of garlic powder
Ground black pepper to taste
Salt to taste
Olive oil to taste
How to prepare, step-by-step:
Enjoy!
Nutrition Facts
Serving Size:
1/8 of total yield
Servings Per Recipe: 8
Calories Per Serving
:
326
Calories from Fat 54
Amount Per Serving
% Daily Value*
---
---
Amount Per Serving
% Daily Value*
---
Total Carbohydrate
62g
21%
---
*Percent Daily Values are based on a 2,000 calorie diet. Your daily values may be higher or lower depending on your calorie needs.
Note: Nutritional information is calculated approximatelly based on recipe amounts and generic ingredients used, real life numbers will vary.