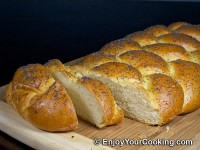 I am used to call this kind of braid sweet bread Hala (Хала in russian), however when I was preparing to write this recipe and did a bit of research to make sure I get name right in english, I discovered that real Challah (Hala) doesn't contain dairy.
Considering this recipe have butter and milk and eggs in it, I didn't risk to call in challah. After all it is a sweet braid yeast based sourdough bread.
It tastes good by itself and even better with a cup of yogurt or cultured milk (kefir or buttermilk).
Ingredients:
About 3.5 cups of all purpose flour
1 pack (1/4oz) of active dry yeast
3/4 cup of milk for dough + 1 table spoon of milk for brushing
1/4 cup of sugar
1/4 cup of water
2 eggs (an egg for dough and another one for brushing)
3.5 oz of butter
Poppy seeds
A table spoon of salt
How to prepare, step-by-step:
Enjoy!
9 Responses to "Sweet Braided Bread"