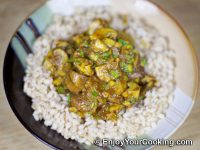 Quick and easy no meat mushroom curry. I could probably get away with using curry powder, but for this recipe I used actual mix of spices.
That way I could can play with spiciness and taste a bit every time I cook it.
Mushroom curry tastes great with boiled rice, or boiled barley. I even add it to salads sometimes to spice things up a bit.
It is really pretty fast recipe to cook and very tasty.
Ingredients:
1lb of portobello mushrooms
1 onion
5 garlic cloves
1 teaspoon of caraway seeds
1 teaspoon of ground coriander
1 teaspoon of chili powder
1 teaspoon of ground turmeric
2 tablespoons of tomato paste
Small bunch of fresh cilantro
1/4 cup of water
Oil for frying
Salt to taste
How to prepare, step-by-step:
Enjoy!