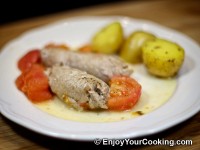 This recipe is not so budgety, prices for veal in US are somewhat high, but I like veal meat: it is lean and tender.
To reduce cost a bit, another part of veal can be substituted for scallopini here, pieces should be sliced thin, beef will do too but may need to be cooked longer to be tender.
Use any kind of white wine you like, it can be also served later with the course.
Ingredients:
5 veal scallopini pieces (between 1lb-1.5lb)
7oz of feta cheese
2 garlic cloves
2-3 tablespoons of pitted and sliced black olives
Bunch of fresh green parsley
3 roma tomatoes
1 cup of white wine
Ground black pepper to taste
Salt to taste
Olive oil
How to prepare, step-by-step:
Enjoy!