Fried Cauliflower Florets
August 21st, 2010 in Sides by Julia Volhina

Total cooking time:

45min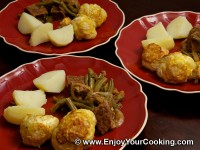 According to Wikipedia, cauliflower is low in fat, high in dietary fiber, folate and vitamin C. And I think that positions cauliflower as a nutritional vegetable and important part of the daily diet.
My mom boils florets first and then fries with flour and eggs. I like taste of cauliflower fried this way more than just boiled, it is less watery, also eggs and flour bring up a nice addition to taste.
By the way, flour can be replaced with finely ground breadcrumbs, tastes good this way as well. I prefer using bread breading I prepare myself, rather than breading mixtures.
Ingredients:
1 medium cauliflower head
2 eggs
About cup of all purpose flour
2 tablespoons of butter
Salt to taste
How to prepare, step-by-step:
Enjoy!
9 Responses to "Fried Cauliflower Florets"