Tag:
butter

(Page 4 of 4)

June 5th, 2010 in Desserts by Julia Volhina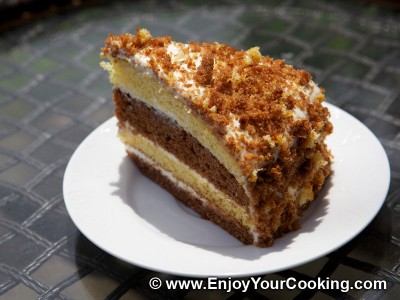 Yuriy had his birthday 2 weeks ago, so I decided to cook him a cake. Somehow we ended up eating whole cake just by ourselves; so we will need to work out more now 🙂
I've used this simple recipe of homemade cake which is very popular in Russia and other countries of ex-USSR. Because of the sour cream frosting it is often called "smetannik", which basically mean "made of sour cream" in russian.
If you decide to make this cake – make sure you have enough time to let sour cream to soak to into each layer of the cake after it is assembled; 6-8 hours are usually enough. If you prepare cake a night before you are going to serve it and then put to fridge – it is even better.
December 26th, 2009 in Desserts by Julia Volhina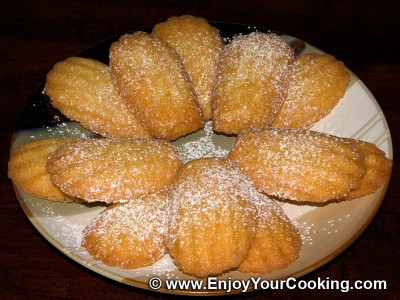 It is easy to fell in love with those little butter cakes the first time you try them: it is exactly what happened to me :), I had to find the recipe. And then I've got hooked: every time I have extra 30 mins and a mood for baking – I am preparing madeleines.
Apart of eggs, butter, flour and a few other ingredients you will also need madeleine baking pan (madeleine molds) to prepare those french sponge cakes. Internet says they exist in two sizes: bigger and smaller.
I've spend quite some time before I finally found bigger ones in Williams-Sonoma, I was also lucky they appeared to be nonstick ones. By the way if you cook in small size molds – reduce cooking time to about 6 mins.
With ingredients described in this recipe will get you about 24 madeleines, enough for 2 baking forms with molds of bigger size. If you want more just double or triple the amounts.
October 30th, 2009 in Fish, Main Dishes by Julia Volhina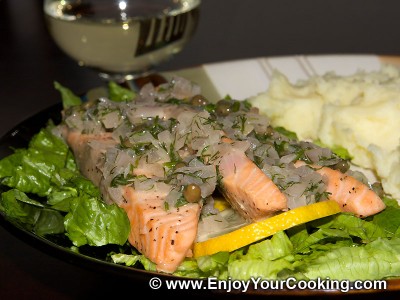 Capers and dill, butter, wine and shallots – those are ingredients of very good sauce for fish. Personally I pick salmon, because it is especially good when boiled or even simmered like in this recipe. However I think it will work with other kind of fish without any problem.
Should I also remind you what fish is an important part of the healthy diet?
Got a romantic dinner coming up and want to surprise your date with something special? I recommend this tender salmon dish, especially if after preparing of it you still have a few sips of Chardonnay left to accompany it with.