Tag:
butter

(Page 3 of 4)

December 17th, 2011 in Main Dishes, No-meat by Julia Volhina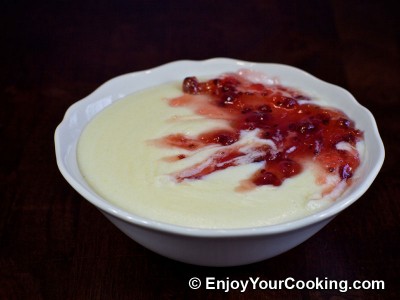 Mannaya Kasha is one of foods associated for russian people with their childhood. When I was little I was always told it is rich on nutrients and required for healthy kid growth – every kid knew that to grow strong and healthy they need to finish up their plate with semolina porridge.
Just as a note: while researching for proper translation for this recipe, I stumbled on information that semolina porridge isn't recommended for kids younger than 3 years (which was new to me) as it contains high amount of gluten and also phytin. But because it also has a lot of proteins and high content of vitamins E and B1 it is very good for kids after 3 year old who have no gluten intolerance.
While cooking it is important to stir mannaya kasha all the time (I use whisk for this and it helps a lot), or you will get clots and no kid likes them in their mannaya kasha.