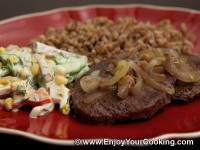 It felt like a time for some nice beef stew recipe, so here it goes: beef stewed with onions is a dish my mom was always cooking, when I was little. Well, maybe she didn't put a wine, but besides of that – that is the dish I am used to from my childhood.
It is very easy to do, probably the easiest stew recipe I know, and doesn't take much time to cook. Wine adds a nice hint to the taste, but it is completely optional: just replace it with a cup of water if you don't have a cup of dry red wine.
This dish goes good with mashed potatoes or boiled buckwheat as a side dish.
Ingredients:
2lb of beef round eye
3 medium onions
6-8 bay leaves
15 black peppercorns
1 cup of dry red wine (optional)
Salt to taste
Sunflower oil
How to prepare, step-by-step:
Enjoy!
4 Responses to "Stewed Beef with Onions"