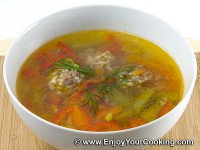 Eating soups is healthy, let's also make it tasty!
Homemade beef broth, a lot of vegetables and meatballs, sounds good for me, what about you?
If you don't want to play with making broth yourself, canned beef or chicken one will work as well, this will also save you some time.
You may dilute it with water since meatballs will contribute to broth as well.
Ingredients:
For Soup:
1 lb of beef for soup (e.g beef bone in chuck short rib, or any other type beef for soup)
1 parsley root
4 oz of grated carrots
1 onion (small)
1 roma tomato
1-2 potatoes
1 cup of fresh green peas or pea pods
1/2 of red bell pepper
3-4 bay leaves
Salt
Paprika by taste
For Meatballs:
1 lb of ground beef
1/2 cup of rice
Salt to taste
Ground black pepper to taste
How to make, step-by-step:
5 Responses to "Meatballs Soup"