Tag:
breakfast

(Page 7 of 7)

July 4th, 2009 in Main Dishes, No-meat by Julia Volhina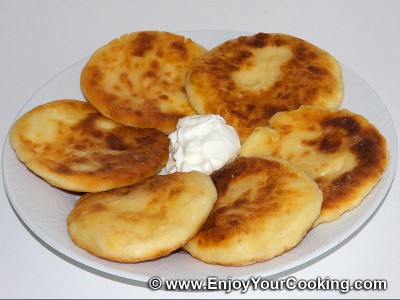 Fresh White Cheese Pancakes are good choice for the family breakfast or snack. Fresh cheese is a source of the calcium, therefore this is very good food for kids whose growing body needs a lot of calcium.
Cheese pancakes are very fast and very easy to do. The only hassle with this recipe can be to find good quark-kind fresh cheese. So try Russian, Ukrainian or Polish shop if you can't locate it local supermarket, or make it yourself.
May 16th, 2009 in Main Dishes, No-meat by Julia Volhina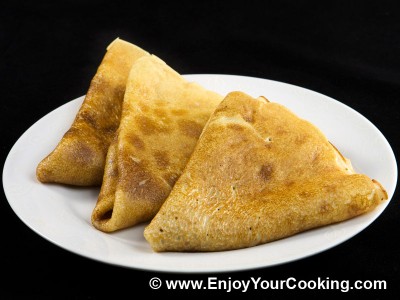 Crêpes (crepes, thin pancakes, blintz, bliny, mlynchyky) can be served with various dips and plain fillings (fresh fruits, sour cream, honey, jam, sugar, etc) or be staffed with more complex fillings like mushroom & cheese sauce, meat and rice, eggs and green onions stuffing, etc.
But in any case you will need to prepare crêpes first and that requires agility and some kind of training. Read how I prepare them in the step-by-step guide.
January 3rd, 2009 in Salads by Julia Volhina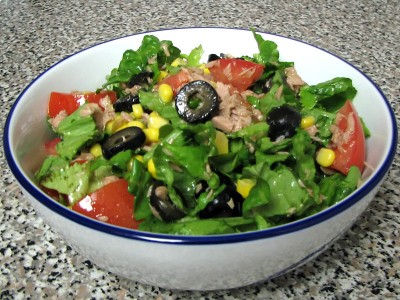 This good, nutritious and light salad with tuna and lettuce is an easy way to watch your weight without feeling hungry all the time.
Tuna is great source of protein and can also provide with omega-3 fatty acids if canned properly, so check the label on the can before choosing it for the salad.
Green tuna salad is pretty easy and fast to do, great choice for lunch or light dinner.