Tag:
cabbage

(Page 4 of 4)

October 17th, 2009 in Main Dishes, Pork by Julia Volhina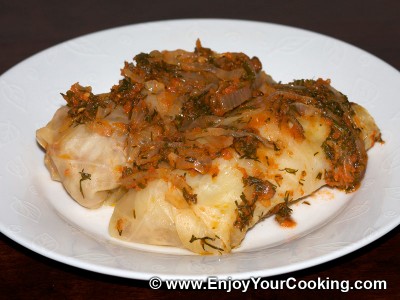 Cabbage rolls (stuffed cabbage) dish is very popular food in Eastern Europe. No wander you can easily find cabbage rolls among traditional recipes in cuisines of Russia, Ukraine, Poland, Romania and many others countries.
Making of cabbage rolls from the scratch (including grinding meat, boiling and separating cabbage and then preparing them one by one) would take some time, so it is better if you start cooking in advance. However you can leave prepared cabbage rolls in the oven with heat turned off for up to 1 hour, so they stay warm if you want to postpone serving.
This recipe describes step-by-step process of preparing cabbage rolls in tomato-dill sauce. Enjoy the taste of traditional dish of Eastern European.
July 11th, 2009 in Salads by Julia Volhina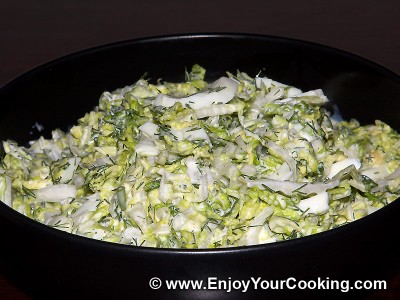 You can take any kind of cabbage for this salad, however I prefer napa cabbage (one of variants of Chinese cabbage), as it is more soft and tasteful.
In general this salad is easy to make (as I think any slaw is), very fast to do and of course is nutritious: napa cabbage is rich on vitamin A/Carotene and vitamin C.
If you use napa cabbage, don't make more salad than you will eat for one meal, napa cabbage salads are best to be eaten fresh and loose taste after stored in fridge.
May 31st, 2009 in Hot Soups, Soups by Julia Volhina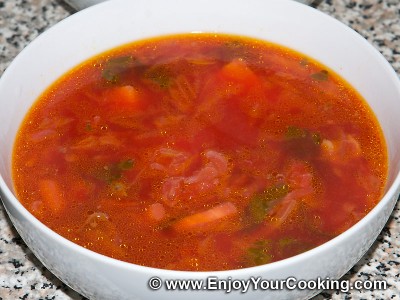 Borscht (borsch, borshch) or beet root soup is very popular in a Eastern and Central Europe countries. Who of you didn't hear about russian or ukrainian borscht?
It is one of 3 common things which usually come to people minds when they are asked about Russia or Ukraine. Well, other 2 would be: good looking girls and vodka, of course.
As you've probably noticed, this blog is about cooking (not about dating or drinking), so I will show you how to make Borscht (Beetroot Soup) in this post, please use Google to find more info on slavic brides or famous russian alcoholic beverages if you feel like this.