Tag: cream (Page 4 of 4)
July 24th, 2010 in Desserts by Julia Volhina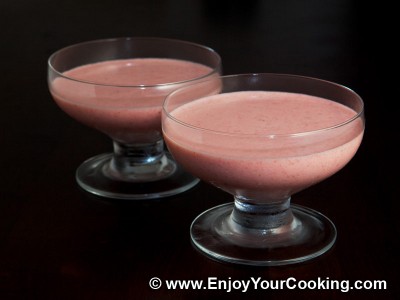 Even though here I can buy strawberries almost any time of year, they are especially tasteful at summer. So yes, it is a strawberry time!
So if you looking for a nice recipe for strawberries – here it is: sweet whipped cream with puree of fresh sweet tasty strawberries and a bit of jelly. Easy to prepare, and even easier to eat 🙂
Of course, whipped cream is a bit heavy for the figure especially if it is mixed with sugar, but it is also totally delicious – so I allow myself to enjoy it every once in a while. But if you are trying to follow low calories / low fat diet this recipe is probably not for you.
May 8th, 2010 in Hot Soups, Soups by Julia Volhina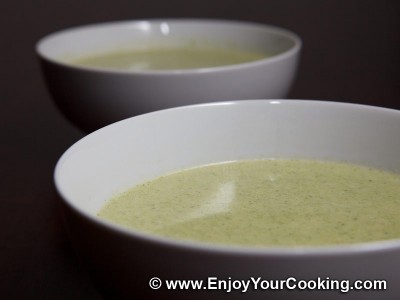 This bright green colored soup-purée (or cream soup) made of chicken, broccoli and some other vegies is probably the quickest to prepare soup I know.
It is also nutritious: loaded with healthy vegetables and white chicken meat, which are boiled, pureed and blended together for tasty creamy texture.
All that makes this soup very good choice not only for kids, but also for people who prefer soft food.
January 30th, 2010 in Sauces & Dips & Spreads by Julia Volhina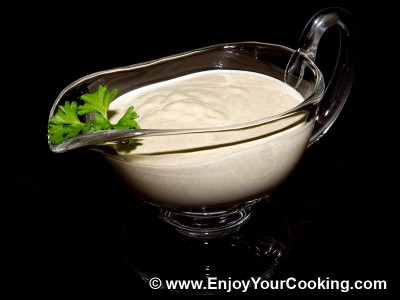 I think that is one of the easiest cream sauces to do, but it is also a bit heavy due to usage of whipping cream as a main ingredient.
Personally I think the taste this sauce completely worth working out those extra calories later on. But it is for you to decide: try substitute cream with smaller amount of half & half to make it a bit lighter if you wish.
Cream of Mushroom Sauce is perfect addition for potato-based dishes: potato dumplings, potato pancakes or simply boiled potato; it will also benefit grilled or fried chicken meat or roast beef; as well as it can be served as a pasta sauce.