Tag:
pork

(Page 4 of 4)

December 19th, 2009 in Pork by Julia Volhina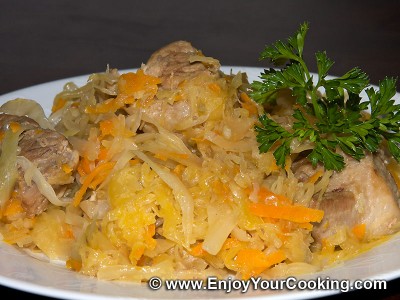 Bigos, as a cabbage and meat stew, is very popular second course dish in countries of East Europe. I believe it was originated in Poland, however recipes similar to polish bigos can be found in cuisines of Lithuania, Russia, Ukraine and maybe some others. In Poland bigos is traditional dish to be served on Second day of Christmas.
Ingredients for bigos vary, some of them may or may not include tomatoes, mushrooms, carrots, onions, garlic, honey and even prunes; beef, veal, pork, bacon, smoked ham, smoked sausages or a combination of those.
However common parts for each bigos recipe are some kind of meat, white cabbage and sauerkraut.
I cook bigos (by the way it is called "solyanka" in Russia and Ukraine, even though there is a soup with the same name) with pork, a lot of cabbage (fresh and sour), carrots, onions, bay leaves and spice it with whole black peppercorns, just like it was always cooked in my family. Hope you will like it too.