Tag:
cookout

(Page 2 of 2)

July 30th, 2011 in Appetizers & Snacks by Julia Volhina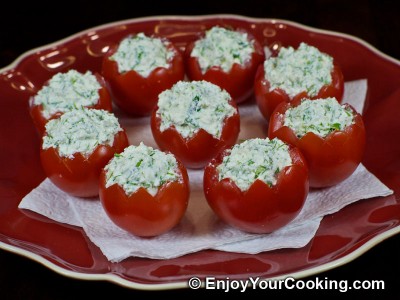 These campari tomatoes stuffed with fresh quark cheese, chopped greens and garlic can be nice addition to any celebration table or a cookout: they look festive, taste good and can be easily eaten with fingers.
If you can't find quark cheese (sometimes called farmers cheese, or fresh white cheese, or tvorog in russian) it may work with feta cheese, but I like it more with quark.
Seeds and pulp from tomatoes as well as top parts – once removed – are not needed for this recipe. You can discard them, or use in some other dish.
Many kind of stews and soups would only benefit from fresh tomatoes. I used seeds and juice from this batch to marinate a nice ribeye steak.
February 26th, 2011 in Sauces & Dips & Spreads by Julia Volhina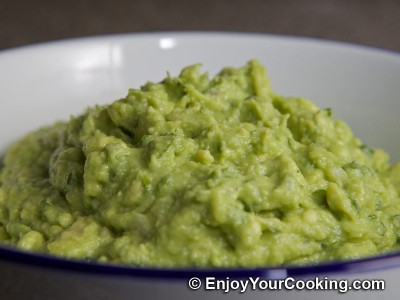 First time I tried this green dip, it was served as a side dish to something very spicy in mexican restaurant, and it didn't impress me. Probably, that was about color: I never seen avocados before and their bright green color seem almost artificial.
Nevertheless, I tried it and since then these unusual and very nutritious fruits are very important part of my diet: amusingly they have more potassium than bananas, have high fiber content and rich on vitamins E, B and K.
This variant of guacamole is a bit spicy. If you want to make it mild: either increase amount of avocados or reduce amount of serrano peppers and onion; adding sour cream can help reduce hotness as well.
October 9th, 2010 in Beef, Main Dishes by Julia Volhina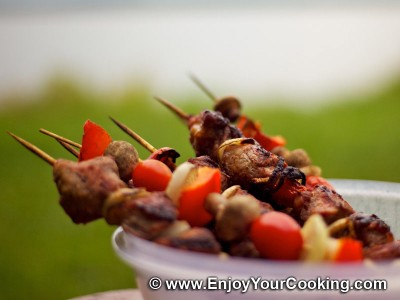 Cookout when we had these veal shish kebabs was rather extreme: we went to the lake (about 50 miles away), fired up grill, skewered meat, set it on the grill and then… rain started.
And it appeared to be not the light summer rain which we hoped for when we first saw clouds, but the cloudburst with thunders, lightnings and a hail in between, the cold one.
I don't know how we managed to keep that meat cooking, but it turned out good, maybe it even tasted better because we were guarding grill for half of hour with towel above it to keep it from getting wet.
By the way, to cook such shish kebab ("shashlik" or "shashlyk" how we call this dish in Russia) you will need skewers of some kind and of course grill (make it a charcoal one to get better taste) in additional to meat, onions, vinegar and spices. If you use wooden skewers, don't forget to soak them in the water at least for 1 hour before skewer meat on.