Category: Sides (Page 6 of 7)
January 29th, 2011 in Main Dishes, No-meat, Sides by Julia Volhina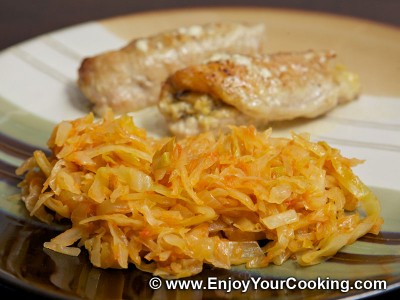 Braised cabbage can be a nice meat-free dish on its own, however it also makes a good side dish for various meats, especially pork and sausages.
You can braise fresh white cabbage alone or mix of white cabbage with sauerkraut (1:1 proportion) to your taste. If you choose to use sauerkraut, rinse it with water before adding to the skillet.
Fresh tomatoes in this recipe can be replaced with tomato paste, if you don't want to spend time blanching and de-seeding tomatoes.