Category: Salads (Page 8 of 10)
November 13th, 2010 in Salads by Julia Volhina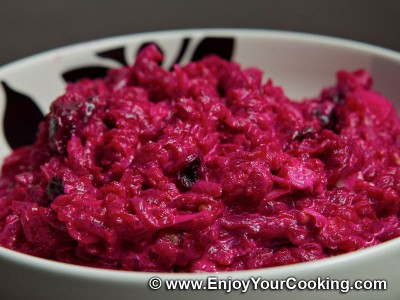 Beet salad with prunes, walnuts and onions dressed up with mayo or sour cream or both is one of the traditional salads of ukrainian cuisine.
Also, this dish is one of the not many dishes which uses beets as a main ingredient.
It is very important to use sweet and rich red color beets for this salad. So, when buying beets scratch their skin with a nail: dark red pulp under skin is a sign of good beet, not pink and not white.
It is also important to use good quality walnuts; taste before you buy them: old walnuts can be bitter and using such will make you salad taste bitter as well.