Tag:
chicken

(Page 8 of 9)

January 22nd, 2011 in Chicken, Main Dishes by Julia Volhina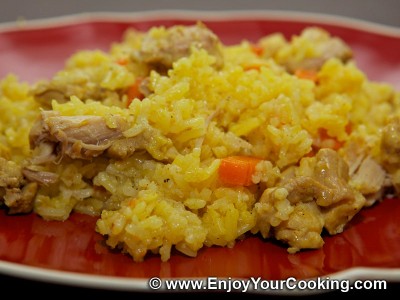 An easy tweak to classic pilaf recipe – chicken instead of lamb – will make this dish to shine all different colors. Chicken require less time to cook, it is more lean so, let's say it is more healthy and also faster to prepare 🙂
Using whole chicken is an option, but in this case you probably need to bone it first (unless you like to chew on bones).
Take boneless thighs, if you don't like to spend time removing bones. Chicken breasts can be used as well, but may end up being too dry – mix them up with some other parts such us thighs or so.
Another trick to this recipe is using cast-iron pan, ideally round one. It makes rice to cook more evenly which is more important part – get soft not overcooked rice.