Category: No-meat (Page 4 of 8)
November 30th, 2013 in Main Dishes, No-meat, Pasta by Julia Volhina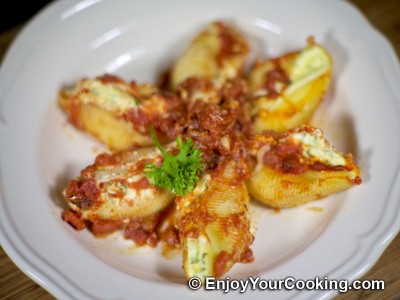 This is my first take on stuffed jumbo pasta shells, but I will must say it will not not be last: there are so many stuffings these may work nicely with.
In this recipe pasta is stuffed with five cheeses (ricotta, parmesan, provolone, mozzarella and romano), fresh parsley and egg mix.
For sauce I tried something new too: that is canned crushed tomatoes, usually I avoid using canned vegetables, but these worked well for sauce and saved me quite some time too.