Tag: garlic (Page 10 of 11)
August 14th, 2010 in Hot Soups, Soups by Julia Volhina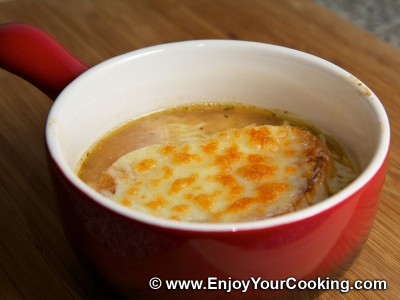 I absolutely love this tender onion and cheese soup with a light hint of spices and dry white wine. It is very good choice for home dinner party or romantic dinner just for you two.
You can prepare most of the steps in advance (from step 1 to step 9), then pour soup to the bowls, add bread and cheese and put them to the oven right before serving. That will save you a bit of time and ensure every meal comes fresh and warm at the right time.
My advice would be to use home prepared broth, cooked with good quality beef, carrots, onions, parsley and celery for this soup. If you need some hints on how to prepare beef broth, follow these instructions.