Tag:
mayo

(Page 2 of 9)

February 13th, 2016 in Chicken, Main Dishes by Julia Volhina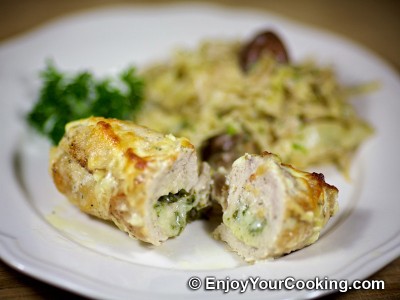 These resemble chicken kiev for the part that they are chicken rolls which are stuffed with garlicky butter. But they are much easier to make and are a bit healthier: because of no breading and no deep frying.
Chicken thin cutlets cut works perfectly for this one (if you can buy it), but whole breast can be sliced into cutlets as well, it will just be slightly more work to do to make sure slices are even and there are no holes in the chicken so stuffing doesn't leak when cooking.
Butter and cheese stuffed chicken rolls taste great when served hot, right out the oven. Good when paired with mashed or baked potatoes. Perfect for romantic or celebratory dinner.