Tag:
mushroom

(Page 5 of 6)

November 19th, 2011 in Salads by Julia Volhina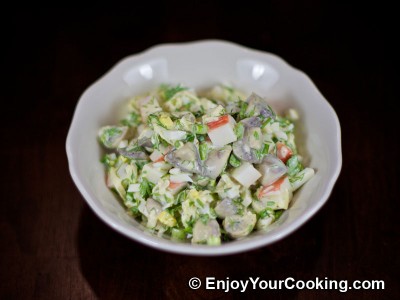 I didn't post salad recipes for a while now, so wanted to come up with something special this time.
I chose salad made of surimi crab sticks mixed with tender pickled mushrooms, grated apple, fresh dill and parsley and dressed with ground black pepper and a bit of mayo.
This mix may seem unusual (especially here in US), however it is very popular in post-USSR countries. You can find it under name "Salad Anshlag" in menus.
Some people use boiled mushrooms for this recipe, however I prefer mushrooms pickled following this recipe: they are very easy to do and are less plain than just boiled; but this is a matter of preference.