Tag:
soup

(Page 4 of 5)

December 12th, 2009 in Hot Soups, Soups by Julia Volhina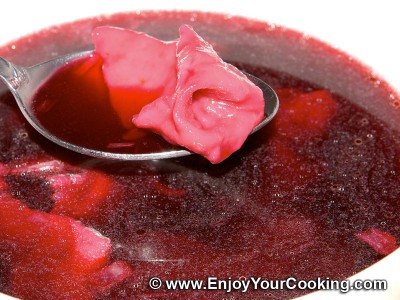 In a lot of countries Christmas Eve dinner gathers whole family around one big table. Borscht with mushroom dumplings is the one of 12 dishes which usually are on that table by tradition in West Ukraine (by the way those dumplings are called "vushka" in ukrainian, which means "small ears", I guess because of the shape).
Of course, because that is the Christmas Eve and Nativity Fast isn't finished yet there is no meat used to prepare it: just vegetables and dried mushrooms. This borscht like the rest of the Christmas Eve's traditional food is lenten, it is very tasty and isn't heavy at all – most of the vegetables are used to prepare clear broth only and don't get served with the borscht itself.
At first glance, it may look like cooking it is a bit of a hassle and time spending: so many steps (I've prepared 34 step-by-step pictures for this recipe!) and so many manipulations with different cooking utensils. However, you can complete preparation steps a day in advance – for example soak mushrooms, boil them or/and boil beets, you can even make dumplings a day before, freeze them and prepare the borscht next day. And then, nobody said you need to make everything yourself: involve your family into helping you! And have a Merry Christmas!