Tag:
lunch

(Page 3 of 17)

April 9th, 2016 in Chicken, Main Dishes, Pasta by Julia Volhina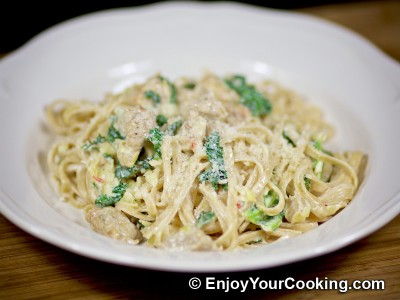 This pasta dish recipe is greatly inspired by Zuppa Toscana you can find in "Olive Garden" here in US.
It has distinct Italian taste (thanks to spices in sausage), creamy parmigiano reggiano sauce and any pasta you want, all though I suggest using whole wheat linguini pasta for healthier option.
Using of hot Italian sausage rather than mild one will make the dish hotter obviously, mixing both is an option too.
Serve Italian Sausage Pasta for dinner or lunch, serve it hot, it tastes better fresh, not reheated. Stated amount of ingredients yields exactly 2 portions, adjust amounts if you need more or less.