Tag: spicy (Page 8 of 8)
March 13th, 2010 in Chicken, Main Dishes by Julia Volhina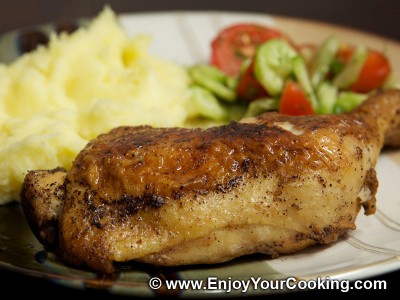 It is the easiest way to cook chicken: get meat pieces, rub them with salt and spices, and then fry. Nothing complex and yet still very tasty.
Whole chicken legs are the best for this recipe, you can even get into more extreme and fry whole halves of chicken or cornish hen (bigger pieces are more juicy, but you may need to increase cooking time for big portions of meat).
Drumsticks, thighs and even wings can be cooked the same way: but you may need to reduce cooking time and increase amount of spices – just keep proportion of spice the same: 1 part of cumin to 1 part of ground black pepper to 2 parts of ground coriander – and it will be fine.