Tag: sour cream (Page 2 of 5)
March 28th, 2015 in Beef, Main Dishes by Julia Volhina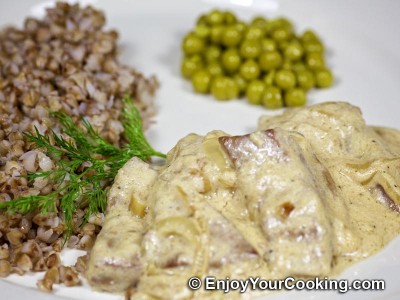 Let's bring liver back to the table: for as nutritious as it is, it doesn't get nearly enough of the spotlight.
This easy recipe will help you to add all the goodness beef liver has into your diet.
I noticed that in US it is easier to find pre-sliced and cleaned liver, but in case you buy a whole piece, you will need to clean it, remove hard vessel parts and slice it up before continuing with the recipe.
Liver tastes great with February 14th, 2015 in Main Dishes, Rabbit by Julia Volhina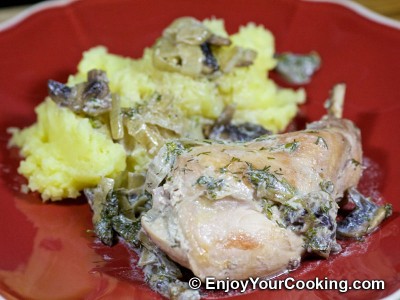 Rabbit meat is considered to be lean and overall healthy meat option. We were cooking rabbits pretty often at home in Ukraine. But here in US I was never lucky enough to see one in store.
This seem had changed recently: both, Whole Foods and Giant Eagle Market District in area where we live, now started carrying young rabbits (I hope it isn't some kind of trial).
So I couldn't resist, bought one and decided to share this simple and yet pretty tasty recipe for rabbit stew with mushrooms and sour cream. I hope you like it as much as I do.
November 8th, 2014 in Chicken, Main Dishes by Julia Volhina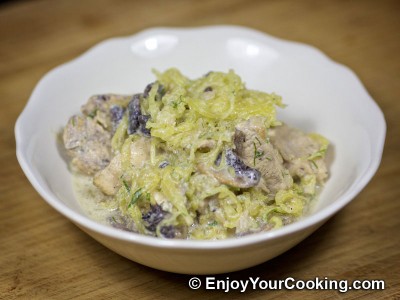 Fall is a perfect time to cook some squash. Spaghetti squash.
This recipe features spaghetti squash stewed with chicken and mushrooms in sour cream sauce. Prepared like this, this dish doesn't require a side.
Stewed spaghetti squash will work great for dunner or lunch. Leftovers can be easily reheated in microwave.
July 19th, 2014 in Appetizers & Snacks, Fish, Main Dishes by Julia Volhina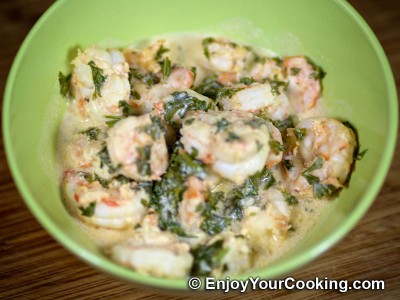 Fast recipe to fix shrimps: simmer them for few minutes in sour cream and butter sauce.
I used raw cleaned shrimps for the recipe. But boiled ones will work as well, just reduce cooking time and temperature (no need for boiling).
Shrimps prepared this way can be a dish on its own, an appetizer or a snack, or it can be served over a bed of rice or pasta.